As a teenager in middle school, Billie DeVille was given to the emotions that plague many girls that age – low self-worth and a longing for self-confidence and a better feeling about herself.
She knew she was coming into her own but didn't quite know how to get to where she needed to be.
"When I think about that time, I think about how I tried to figure out who I was. There were so many struggles I was going through," says DeVille.
The 31-year-old Flint native felt compelled to do something more about it, especially after becoming a mother.
"Having my daughter really pushed me to start my own organization so she could know her self-worth," she says. "I thought, it would be great for young girls to have guidance to come into their own."
Her organization, Worthy Girl, connects with girls to build worthiness and sisterhood, all while having fun.
Launched just this past August, Worthy Girl focuses on girls eight to 14 years old helping them build character, confidence, self-esteem, faith, and identity through weekly meetings, annual retreats, community events and activities, and even through an online presence. In other words, to build themselves.
"Worthy Girl is about knowing your self-worth, knowing who you are," says DeVille.
The girls she works with aren't often sure what they have to offer.
"One girl I work with started acting out during one of our workshops," DeVille says. "I told her she was too beautiful and too smart to do that. She was surprised, and said 'I am not beautiful, and I am not smart.' It took me back that she believed that about herself."
DeVille can relate. As a young woman, she too believed there was a certain worth she had, but identifying with who she was remained a murky exercise at best.
"It was confusing for me," she says.
She admits to being outgoing but not understanding fully her own complexity.
"Am I this fun girl? Am I this smart girl? Knowing that there are many sides to all of us and that you draw on those different parts of your personality didn't come easily to me," she says.
As for the girl in the workshop, DeVille says she thought at least she'd admit to being intelligent. "I said it again, firmly, 'yes, you are smart, and that is what I believe.' I could tell it penetrated," she says. "I could see she was thinking about it."
A major in human resource development from Oakland University was the starting point for DeVille, the human part of the equation always being more interesting than the more managerial aspects of the field.
She has a long record of working with youth, including tutoring while in high school, working as a classroom assistant for Flint Community Schools summer youth program, and being a caregiver at a childcare center as well as working in children's event management at the Longway Planetarium while in college.
After she started having children of her own and was a young mom, DeVille opened a home-based childcare business as well as Mommunity, a play group that brought together families with children. DeVille went on earn a certificate from Restoration Place, an institute that provides education to combat human trafficking, and has been cleared through the State of Michigan to work with children.
She now works as a youth specialist at the Whaley Children's Center, which helps treat at-risk and abused children as well as their families. To say she is committed to the well-being of children is an understatement.
To spread the word on its programming, Worthy Girl meets with the younger populations at Flint-based organizations like Whaley, Genesee STEM Academy, and area churches. Since her organization is so new, DeVille also relies on social media to get the word out. She'll even go so far as to approach strangers to talk about what she does, if the situation is appropriate.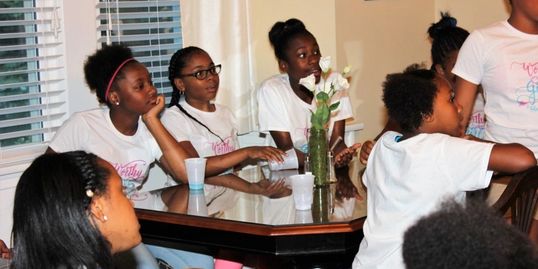 It was DeVille's Self-Love Retreat though that solidified Worthy Girl as a substantive organization in the community. Held in August at Knob Hill Bed and Breakfast, she says parents signed their daughters up in a heartbeat for the overnight. "No one knew who I was," she says, quite surprised parents would so readily let their daughter come.
It was the girls, however, DeVille quickly learned, who motivated their parents more than anything.
"One mother told me her daughter said she would not be able to live until she went on the retreat," says Deville. "One little girl signed herself up pretending to be her mom. She was 11."
The retreat was a success.
"We created a sisterhood with each other. The idea is to not leave each other out, or speak negatively about each other," says DeVille. "We really focused on the positive."
To get things going, DeVille facilitates roundtable discussions where she encourages girls to talk about what they liked about one another.
"I asked them questions, and they brought a lot up – having trouble with other girls, the gossip between them," she says. "I guided them on how to de-escalate situations. I also wanted them to talk about boys. Did they feel they had to change to get a boy to like them? They said 'no.'"
DeVille then asked them the most important question. Do you know who you are?
"I had the girls give testimony, as best they could – their own form of it. One was so shy, she didn't really talk, but at the end, got right up and told us what she liked about herself," says DeVille, adding that the girl's mother posted videos of her daughter on her facebook page after she came home, she was that changed – and exuberant. DeVille felt like a proud mama herself.
"I don't want to say it was all because of the retreat, but I think her confidence went way up.
For more information, visit heyworthygirl.org or call 810-834-1492.
Comments
comments