A $1.4 million building development is expected to generate new retail activity downtown.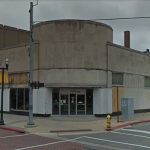 The former Perry drugstore site at South Saginaw and Second streets will house four new businesses, following renovations to the 9,000-square-foot structure, due for completion in March.
Additional shops, totaling six and generating about 15 full-time jobs, are part of the vision for the fully leased development, leaders of the effort say.
"The newly renovated retail space provides viable options for the growing entrepreneurial community and small businesses that will serve the needs of downtown residents and workers, as well as visitors to the area," says Tim Herman, president of Uptown Reinvestment Corp. "Combining this new space with existing spaces within the Capitol Theatre and along Saginaw Street will help create a critical mass of shopping options downtown."
The former drugstore site development is supported by a $200,000 Michigan Community Revitalization Program performance-based grant from the Michigan Economic Development Corp. Flint City Council also approved 12 years of tax incentives for the property.
Four tenants confirmed for the site include:
ELGA Credit Union branch location
Buckham Gallery, an arts venue
Glam Box Boutique, an apparel and accessory shop
KeLan Foard The Brand, a men's clothing and grooming shop
"By renovating the Perry building into a small retail hub, we are providing entrepreneurs and small businesses – many incubated at the Ferris Wheel, the Flint Farmers' Market and Factory Two – with access to appropriate-sized spaces that will allow them to grow into the next phase of their business," Herman says. "It will also help diversify the downtown business landscape into a 24-7 city center that serves the growing university student and young professional populations."
For more information on Uptown Reinvestment Corporation visit: https://uptownreinvestment.org/
Comments
comments