This 810 Kids! feature is a part of our monthly digital issue sponsored by the Michigan Fitness Foundation and its supporters including the Crim Fitness Foundation, Genesee Intermediate School District and TheHUB Flint. Subscribe to receive the full newsletter.
Going green can have benefits beyond helping the environment, especially where children are concerned. Exposing the whole family to safe, outdoor activities like gardening can educate youth about how nutritious foods makes it into their homes. Gardening can be a great way for kids to have fun and learn about how fruits and vegetables grow. Every kid likes getting a bit mucky, so why not make getting mucky a learning experience at the same time?
Youth can learn new skills, have fun, play and develop self-confidence by spending time in the garden tending plants and growing their own food. Jane Richardson, board member of Edible Flint and special project facilitator of Salem Housing, says the benefits of gardening are not necessarily restricted to the growth of plants.
"The garden creates a social environment for generations to cross-pollinate and learn from each other," says Richardson. "In them youth participants learn to support each other and take care of our neighborhoods."
To learn more about the benefits of getting kids involved in gardening visit EatWell.org's "Kids in the Garden: Nutritious and Fun." Following is a list of programs and community attractions that can help expose children to garden activity:
APPLEWOOD ESTATES
1400 East Kearsley Street
Flint, MI 48503
Applewood Estates opens up its expansive gardens for walking tours without reservations at noon each day of operation. Applewood also operates a hands-on educational garden, part of its larger demonstration gardens. Visitors are invited to join in planting, weeding and harvesting during operating hours. Larger groups can arrange more specific educational activities and events in the gardens.
It also offers its popular Storytime at Applewood Fridays at 11:30 a.m. through October.
Learn more: To learn more about Applewood's educational events and programs contact Renee Seba at 810-396-3112. Community garden coordinators may contact Applewood's roving garden expert John Cohone at 810-396-3100.
ASBURY CHURCH COMMUNITY GARDENS
Located on Jane Avenue between Minnesota and Iowa Streets
Asbury Church (Office)
1653 Davison Road
Flint, MI 48506
The church welcomes youth participation in its 12 hoop houses and 13 gardens, which represent one of Flint's largest community garden initiatives. This summer youth from Latin X, Mr. Gaines Gardening Plus Program and Michigan's Department of Natural Resources Summer Youth Initiative, supported by the Flint & Genesee Chamber, will be cultivating, seeding and weeding, and selling the garden's bountiful crop. The church also welcomes walk-in participants and volunteers weekdays after 10 a.m.
Learn more: Call 810-235-0016
EDIBLE FLINT DEMONSTRATION GARDEN
Corner of Fifth Avenue and Begole Street (across from Hurley)
Flint, MI 48502
Open from 10 a.m. to noon on Tuesdays, Thursdays and Saturdays, Edible Flint gardens welcome area families to participate in demonstrations, workshops and events.
Produce grown is shared with volunteers and neighborhood residents.
Learn more: Visit edibleflint.org
FOR-MAR NATURE PRESERVE & ARBORETUM– CHILDREN'S GARDEN
2142 N. Genesee Road
Burton, MI 48509
For-Mar offers lots of opportunities for youth to dig in and get their hands dirty at gardening-related events from its plentiful Truck Farm sprouting up events (see events calendar) and composting events to its Beekeeper Basics program (June 26; 1 p.m. – 2 p.m.) Visitors are welcome to roam its expansive community gardens daily, including its children's garden plot where kids are invited to participate in various gardening activities. Don't miss the edible forest garden, featuring fruit- and nut-bearing trees and shrubs.
Learn more: Call 800-648-PARK or visit the park's events page.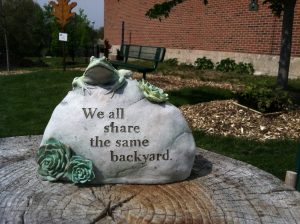 FLINT CHILDREN'S MUSEUM'S SPROUTSIDE
1602 W. University Ave. (formerly Third Ave.)
Flint, MI 48504
FCM created Sproutside, its outdoor learning area, as a dedicated space for area kids to play, explore and create. Educational programs, physical activities, and even picnic lunches with family members or classmates are all a part of the fun.
Learn more: Call 810-767-KIDS (5437) or visit the FCM's Sproutside blog.
FOSS AVENUE COMMUNITY GARDEN
Located at Holbrook Avenue and Premier Street
Foss Avenue Baptist Church Office
1159 E. Foss Avenue
Flint, MI 48505
The Foss Avenue Community Garden is open to the public. Youth participation is welcome.
Volunteers can call to schedule time or walk-in. All are welcome, according to a church spokesperson.
Learn more: 810-787-9019  
LATIN X GARDENS
2101 Lewis Street
Flint, MI 48506
Established in 2010, the Hispanic Technology Center garden (now known as Latin X) has expanded to three gardens headed by Kriss Beardslee. The largest vegetable garden uses seeds provided by Edible Flint.
The back garden behind the center is dedicated to multi-colored corn, which is a cornerstone of tortillas used in many Hispanic dishes.  The corn, or maiz, beds represent an artistic display of Flint's Latino culture and a community asset, says executive director Asa Zuccaro. Interested youth can register to participate in the gardens via Latin X's free Summer Youth Program taking place from June 24 to Aug. 1 or by calling the center to enroll in ad hoc events. Gardening and other activities take place every Saturday from 10 a.m. to 2 p.m. and walk-ins are welcome.
Learn more: Call 810.424.3760
MLK AVENUE PEACE GARDEN
Located between McClellan and Genesee Streets
Flint, MI 48505
The Peace Garden welcomes individual and youth group participation. Adult volunteers work alongside youth in the garden on a regular basis. The Peace Garden welcomes volunteers for a few hours or on a regularly scheduled basis. Youth learn about gardening, knowledge of soil health, planting cycles and crop growth.
The Peace Garden is operated out of the Neighborhood Engagement Hub located at 3216 MLK Ave.
Learn more: Call Jane Richardson at 810-348-5332
MEEKINS GARDENS
Located on East Philadelphia Blvd. between Horton & Shelby Streets
Flint, MI 48505
The Meekins Gardens' Urban Community Youth Outreach Program, supported by community advocates Joe King and Jane Richardson, grows bushels of produce on more than 10 formerly vacant lots on the city's north side.
Youth are welcome to participate in planting and harvesting activities throughout the growing season.
Learn more: Call Joe King at 810-577-4770 or email jlking1655@gmail.com. Jane Richardson can be reached at 810-348-5332 or by email: mjrichardson@sbcglobal.net
MR. GAINES GARDENING PROGRAM PLUS
Located on Flint's north side next to the North End Soup Kitchen
North End Soup Kitchen
735 Stewart Avenue
Flint, MI 48501
This award-winning program, one of four community gardens operated through Catholic Charities of Genesee County, provides paid summer jobs and mentoring for high school students, while teaching them job skills, team work and work ethic. Participants plant, harvest and sell produce grown in the Flint area. They also make fresh produce available to area seniors, who often struggle with access to fresh foods. Youth learn to cook using the produce harvested from the gardens and are provided nutrition classes to help develop healthy lifestyles. The program has been partially funded by the Ruth Mott Foundation for over 10 years.
Learn more: Call Kellie Pardi at 810-232-9950 #709 or Mr. Gaines at 810-232-9950 #379; email ggaines@ccsgc.org. For additional detail visit CatholicCharitiesFlint.org
STORYTIME IN THE GARDENS
EJ Gardens
Located at Brownell Blvd and Sunny Street
Every Wednesday, beginning June 19 area youth are invited to come out to EJ Gardens to hear a local storyteller. Readers include Michigan State Police Trooper Steven Kramer and local author Latashia Perry.
Many of the sessions sponsored by the Ruth Mott Foundation include garden-themed readings and related demonstrations.
Learn more: Call Mrs. Taylor at 810-610-0272 or Roy Fields at 810-394-1260 or visit their Facebook page.
BLUEBERRY PICKING
There are lots of blueberry farms in and around Genesee County. Typically, blueberries ripen in early to mid-July, but sometimes are not ready to harvest until later in the month. The farms offer a great opportunity to share the fun of harvesting your own berries with your kids. If you're lucky you might catch local growers who happily answer kids' questions. Call ahead to see if picking conditions are right before you head out.
AZURE ACRES
1233 W. Lake Road
Clio, MI 48420
810-686-7923
Azure Acres offers "u-pick" blueberries, or you can buy pre-picked berries at the Davison Farmers Market stand on Saturdays.
Learn more: Azure Acres Facebook
BLUEBERRY LANE FARMS
13240 Blueberry Lane
Otter Lake, MI 48464
(810) 793-4590
Blueberry Lane Farms offers more than 20 varieties of fruit as well as a whole host of goodies in the bakery and general store. Family Fun Day is scheduled Saturday, July 29 from 8 a.m. to 6 p.m.
Learn more: Blueberry Lane Farms Facebook
MONTROSE ORCHARDS
12473 Seymour Road
Montrose, MI 48457
810-639-6971
Families love Montrose Orchards "u-pick" blueberry orchards and market.
Learn more: Montrose Orchards Facebook
CONYERS BLUEBERRIES
7101 Gillette Road
Flushing, MI 48433
810-659-6677
This cash-only, U-Pick farm offers plenty of berry fields to choose from.
Learn more: Conyers Blueberries Facebook
Comments
comments