June 19, 2009 holds a pivotal and powerful memory for Flint's Reverend Kevin Galloway II.
"I remember it as clear as day," says Galloway II. "I was sitting with my pastor and sharing that I felt this overwhelming call to encourage, empower, and inspire others through word and deed."
Fast forward to 2019. On any given Sunday you might find the 33-year-old nondenominational minister delivering passion, hope and wisdom to the nearly 1200 congregation members of Ebenezer Ministries in Burton.
The number of people Galloway II has inspired is countless. In the last five months alone he's delivered presentations at six churches, three schools, and the Michigan Youth Opportunities Initiative's foster care graduation ceremony.Outside of Ebenezer Ministries, he's delivered sermons at the Evangelistic Temple, Renewed Faith Church and Mount Pisgah.
Recently, Galloway II had a family hire him to give a motivational speech for their mother's 50th birthday party.
"It was intimate, maybe around 20 people. I talked about how to remain strong as a family, how to support one another and the most effective approaches to conflict management and resolution," he recalls. "We discussed the necessary attitude to take toward building, improving, and maintaining family relationships. It was a tremendous experience."
His own immediate family plays an important part of his life. Galloway II shares a five-year-old son with his wife Sharita. They met in 1995 when he moved from California to Flint and she's a big source of inspiration for him. "She has been my friend since elementary school when she ran up and hit me on my first day of school," he says.
Galloway II is also a branch manager for ELGA Credit Union in Flint Township. "I'm typically coaching associates toward their professional goals, helping people with loans, and recommending ways to improve their overall financial picture," he says. Additionally, he teaches all new hires how to deescalate conflicts via a course called Defusing Upset Members with L.O.V.E.
Love is key when it comes to understanding his modus operandi. "I love people and as a result, I want the best for them. Anything I can give that aides others in making positive progress or change, I'm all for it," he says. "Mornings, lunch times, and evenings I'm working to make a difference in my community by inspiring others."
One of the most resilient places in the world, made up of unbreakable fighters is how Galloway II describes his community. "Just think about how the economic core of the city was gutted when General Motors left and about how terrifying the water crisis was, and still is, in many ways. People could be walking around all the time with their heads down, but they don't. They go through the fire and figure it out," he says.
While fire can burn and destroy, it also can pave the path to transformation. And although Flint is on a course of change, Galloway II has observed that many residents are dealing with the challenge of depression as the city recovers.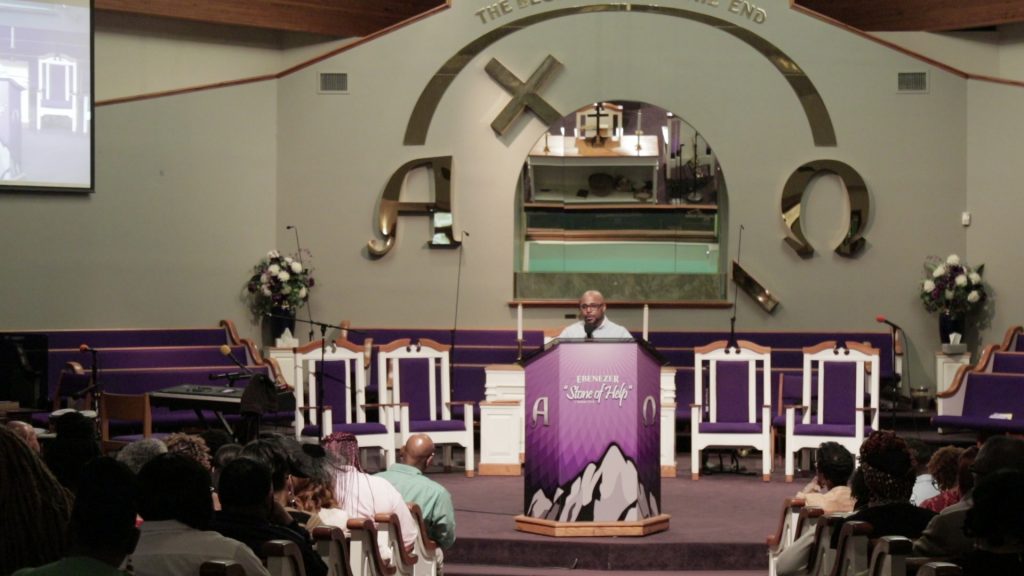 "I haven't done any clinical research personally, but I think that some studies have shown that 41 percent of residents live below the poverty line. This poverty and Flint's setbacks have bred a level of hopelessness in the city," Galloway II says.
"It's hard, especially when people don't even have bare necessities covered," he adds. "Some people are troubled with thoughts along the lines of nothing ever goes right, or wondering why they should even bother to try. I don't have the magic pill. If I had it, I'd give it to them."
Galloway II may not have a magic pill, but he does wield a powerful weapon that he has honed over the years. "Speaking is my super power," he says. "It's the way I connect, engage, and disseminate what little knowledge I possess."
Whether in a formal group setting or in random one-on-one encounters, he talks to people in such a way as to inspire them out of what he refers to as "stinking thinking" or "funk of the mind."
"Words have power. The tongue has power," Galloway II stresses. "Some people think that things like positive affirmations are just mere words or New Age emotionalism. But words can shape you, disarm you, refocus you and cause you to consider opportunities in the worst of times."
Whenever he speaks, Galloway II invites his listeners to connect to their own power. Often he will ask them to say out loud, "I agree." His experience is that such declarations serve as a reminder of what they need to do and what they want to achieve.
"Until a person says it for themselves, it is just me talking," Galloway II says. "When they say it, they agree and find inner inspiration."
Giving people tools to help themselves shape better lives is one of the biggest rewards of his job. "Whenever someone is empowered by something that I said, and they can connect it to a practical plan to make positive change, that lights up my life," he says. "There is nothing I enjoy more than inspiring people."
Lead photo by LaTrelle Elridge
Comments
comments