Nearly 100 friends, relatives and clients gathered on a sleet-soaked Friday for the ribbon-cutting at the new Corcova Salt Spa and Wellness Center where "stress relief" was the buzzword of the night.
The calming decor of Himalayan salt filled the 4,100-square-foot facility where guests had the opportunity to experience the many natural treatments offered in this unique wellness spa on West Hill Road in Mundy Township.
"Everyone you talk to is stressed in this crazy world," says owner Maryann Corcoran. "We invite people to take 20 to 30 minutes out of their day, or spend the day if that's what they choose, bring their spouse and kids to relax, and let the salty air fill your lungs with cleansing particles that restore natural systems to optimal health."
About 250 salt caves or spas exist in the United States, says Corcoran, who is the first to bring the European wellness concept to the Flint area. Corcova offers a Himalayan salt cave experience, a salty ionic foot soak, private salt bed, a salt booth that resembles an old phone booth with a salty twist, and a float pod infused with 1,000 pounds of Epsom salt.
Guests can also opt for a hydro-massage on a user-friendly bed, a red-light, anti-aging bed, a massage or reiki session, a bio-meditation mat, or yoga in the beautiful and tranquil salt cave with pharmaceutical-grade salt filling the air.
As at most spas, Corcova offers robes and slippers for their guests, but the experience takes on its own character in the complimentary tranquility lounge where soft music, a gas log fireplace and warm Himalayan salt foot domes reduce inflammation and restore sore, achy feet.  Friendly spa associates provide hot, herbal neck and shoulder wraps to soothe tension and pain as guests sip hot herbal tea or "detox water."
Salt therapy isn't new. The American Lung Association's blog site, Each Breath, found the concept began in 1843. A Polish physician named Feliks Boczkowski found that salt mine workers didn't experience respiratory issues or lung disease at the same rates coal miners did. A hundred years later, a German named Karl Hermann Spannagel noticed his patients' health improving after they hid out in salt caves while avoiding heavy bombing during World War II. Some locations in the United States have rooms made entirely out of giant slabs of Himalayan sea salt.
"Dry salt therapy is an exceptional addition to ongoing medical treatments," says Corcoran, a certified naturopathic practitioner. She spent two years visiting salt spas, conducting research and assembling therapeutic tools.
"We offer natural, drug-free modalities for stress and pain relief."
The Salt Therapy Association supports salt caves for major respiratory ailments along with colds, cystic fibrosis, ear infections and skin conditions like acne, eczema, psoriasis, rashes and rosacea. Salt has antibacterial, anti-inflammatory and antifungal properties that can fight germs.
Corcoran first had to fight the perception that medical practitioners were the only source of healing. Her mother and grandmother were registered nurses, but she says they were always stressed. They suffered multiple health challenges over the years, despite working in the "health" industry.  Their issues prompted Corcoran to investigate more natural practices to ease tension and generate happy feelings. She had a thriving clientele that she consulted with regularly before opening her spa and wellness center to serve a wider community.
Among the services offered at Corcova Salt Spa are the Himalayan salt cave experience, private salt bed, salt booth, float pod, Himalayan salt infused FAR Infrared Sauna, hydro massage bed and a range of hands-on services. Most cost $1 a minute, but the float pod is $79 an hour. Memberships to the spa for unlimited visits and services begin at $259. Guests could buy monthly packages to Corcova for less than a plane ticket to an exotic seaside resort.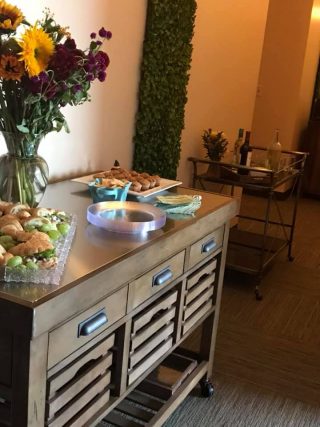 "Corcova Salt Spa and Wellness Center is a five-star experience at a three-star price," adds Corcoran.
"This was a business built by family, operated by family and for families of this community," she says.
Corcoran and her husband Ed spent a lot of time and consideration decorating and marketing the space.
"We wanted to be sure that everyone, including men, felt completely comfortable here. Children, as well as adults, need healing and Corcova is the place to achieve that," she says.
Fellow entrepreneurs in the wellness industry have already begun taken notice of Corcova's features.
"This is not a spa," says Lisa Marie Semerly, owner of Remedi Spa in East Lansing. "It is a destination."
For more information visit www.corcovasaltspa.com.
Comments
comments