On Carrie Edwards' first day as a firefighter for the City of Flint, she almost quit.
Edwards was assigned to body removal, a task as visceral as it sounds:  Transporting the bodies ofthose who hadlost their life in a fireto the hospital. One of the first calls of the day tookherto the home of a woman whose robe had caught fire, and whose body had almost completely burned.
The sight was, she says, emotionally trying, to say the least.
"Because of my strong faith,I was able to make it through. It has helped me tremendously in my career," says Edwards.
That career has been as varied as one could imagine. The mother of two and lifelong resident of the city has been a part of the Flint Fire Department for nearly 20 years. Edwards started out studying music education and planned to be an opera singer. The profession couldn't be more different than her present one.
"I wanted to be home,to have some stability, and to be near my family," Edwards says of her mother, sister, and brother who still live in the area."That's why I'm still here." Weekly Sunday dinners bring them together at Edwards' abode, something that's very important to her mother: Edwards lost two siblings very young, unfortunate events that have brought the family even closer.
Edwards joined the force in 1999, and after becoming divorced felt the need to do something important with her life. College had taken her to Jackson State, in Jackson, Mississippi, and then back home to finish up at the University of Michigan, Flint. She learned that the fire department was hiring, and since it was something she'd always been interested in, she took the test.
"I want to help people," Edwards says of the profession she clearly adores. Paramedic school soon followed as did testing to be the EMS Supervisor, followed by promotion to EMS Coordinator, something she'd been vying for. She's held this position for the past ten years along with fire inspector. When Edwards was hired, there were five women in the department; there are now six, and she is the only woman with rank – meaning in administration. Edwards is also the grant writer for the fire department, which comprises five fire stations, 87 fire fighters, and 10 administrators serving a city of 99,000.
Her success has not been lost on her sons, Lawrence, 27, and Daniel, 25.They are both now in the department as well, Lawrence at station #6 on Pierson Road and Daniel at station #8 on Atherton Road.
"They grew up as a firefighter's children," Edwards says of working as a single mom. "Theycame to work with me. I kind of figured it was coming."
Do they talk about work off-duty?
"Yes, we always talk about work. We don't place a limit on what our discussions are. We talk about the calls at Sunday dinner. They now understand fully what I did. They understand now why I was hard on them, why I was tired a lot of the time," she says.
Edwards wears yet another hat as a trainer for the department's training academies. New recruits receive seven months of training to achieve two separate certifications from the State of Michigan, concluding with a test from the State of Michigan. Each recruit must be fully licensed in Emergency Medical Services, which includes roles as a Medical First Responder and an Emergency Medical Technician. Each must be licensed as Emergency Vehicle Operators and licensed in the use of hazardous materials. Edwards has certifications to teach all of this.
Although firefighter certifications never have to be renewed, the training does continue – daily.
"There's no routine to fire," says Edwards."All of them are different, and all homes are different. We have to train so we don't get complacent. We can't wait until we're there to know how to cut a roof open or scale a stairway. We'll throw out different scenarios in order to prepare," she explains.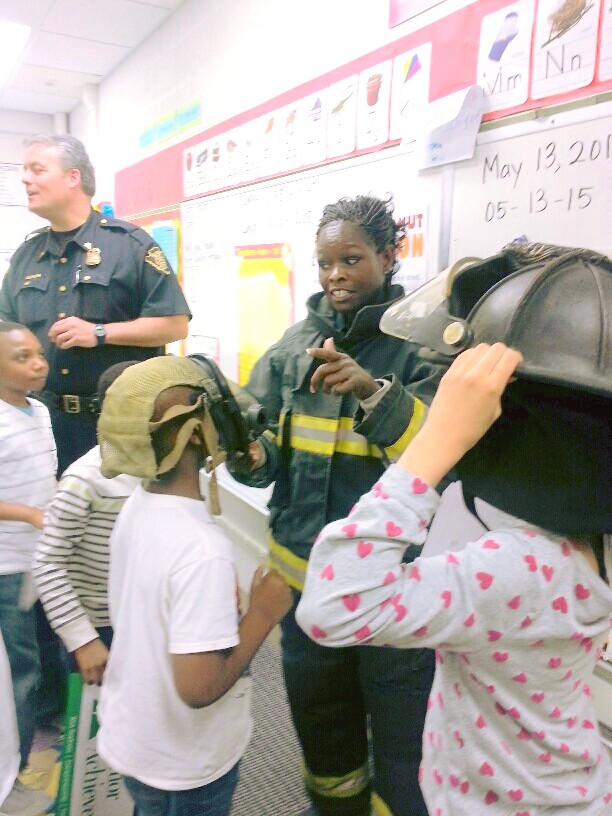 To meet every emergency, the department holds two types of training—for scenarios before as well as after an incident. "When we get on the scene, most fires do run smoothly," says Edwards,"but we just can't always know what kinds of streets we'll drive down and what types of houses we'll be in." Teamwork is essential to get it all done. "Everybody has to do their job. No one ever does anything by themselves," she emphasizes.
The department makes every effort to get into the community too, through events and public speaking to promote fire-safe practices. Edwards knows that city residents don't always see firefighters outside of an emergency.
"Unfortunately, the only time the community usually sees us is duringthe worst possible moments—in an accident or a fire."
She also uses these opportunities to talk about work she loves.
"You have to have the heart for it. You have to care about people, and be willing to risk everything to help somebody you don't know," Edwards says. She also has confidence that the 33 new recruits the department just hired will be more than up to snuff. "They all have the heart for it, they really do."
Comments
comments