Fenton Winery and Brewery will be among craft brewers participating in Explore Flint & Genesee's Craft Beer Scene tour on June 15. Tickets are still available, but must be purchased in advance of the event. Tour stops include Redline Brewing Company, LLC , Fenton Winery & Brewery and Tenacity Brewing. Visit the event page to register or for additional information. 
On hot summer nights, Flint area residents make a beeline to the wooded region south of the city to the Fenton Winery and Brewery. Here they can sip Moonlight Moscato, Pomegranate Riesling, Ingnescent Amber Ale and Unbridled IPA while sitting with their dogs and best buddies on a landscaped patio.
"We're a community winery and brewery. We have mug and stem clubs where customers have their own mugs and glasses to drink from when they visit us again," says Ginny Sherrow, co-owner.
Members enjoy discounts on beverages and pizza. Children and non-alcohol consumers have homemade root beer and cream soda to imbibe.  All enjoy the 1.25-acre beer garden with flowers, a gazebo and a creek running through it. A giant fire pit keeps people warm in the evening chill. Dogs are welcome outdoors.
Rainy days find people inside the intimate tap room, furnished with drinking memorabilia Sherrow collects at garage sales. This is no ordinary bar. She and her husband Matt, high school sweethearts, are co-owners who buy juice, grapes and blending packages. They process or ferment 20 types of wine and 12 to 15 types of beer, averaging $15 a wine bottle or $13 a growler of beer.  Over a year they will sell 20,000 bottles of wine and run through 300 barrels of beer.
"It's all about the experience," Sherrow says.
While pouring a glass of the heavenly wild berry shiraz for a customer, Sherrow says she and her husband sought a business they could operate together. Matt Sherrow was an engineer at automotive suppliers in Metro Detroit.  She worked as a certified financial planner and a yen to coordinate financial matters and business sales rep for a burgeoning brewery. Their bubbly dream fermented quite nicely, thanks to financial help from Flint's Metro Community Development. With a solid business plan and cash in reserve, they were a good prospect for the organization.
Brian Glowiak, CEO of Metro Community Development, said his organization came to the couple's aid in 2007 by providing a capital infusion and then funding the relocation and expansion of their business to a former lumber yard. The business received a total of $150,000 in  loans from Metro Community Development to help make their business dreams a reality.
Glowiak said his predecessors at Metro Community Development believed in the couple and their business plan.  Their proposition was made even stronger by the fact  they could handle personal expenses without the loan, which is pivotal for both new as well as expanding businesses .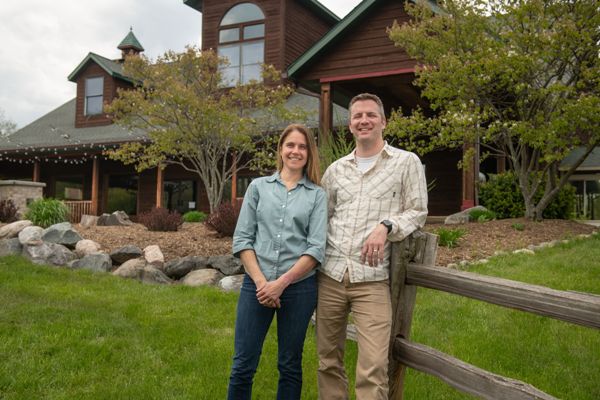 Indeed, locals with businesses large and small come to Metro Community Development with plans.  Metro grants 20 to 25 loans a year, providing up to $2.6 million in local financing and plans to do even more business, Glowiak says. Metro provides creative capital solutions for individuals and businesses that may not have access to services offered by traditional financial institutions.  Metro also provides  technical assistance to business owners throughout the tenure of a loan, because the organization wants entrepreneurs to succeed. Glowiak says Metro's programs serve the Flint community well when a company like Fenton Winery succeeds.
The cedar banquet hall seats up to 280 guests and the business hosts one to three events every weekend. Besides weddings they have had dueling piano concerts and food pairings with beer or wine.
Running a thriving business with 30 employees doesn't leave much time for family pursuits, but Sherrow says she and her husband make it work after 20 years of marriage. Wild berry wine can help smooth out some of the ups and downs of their business. Sherrow credits a welcoming atmosphere that embraces customers as family.
"We offer the most unique experience," Sherrow says. "We're a destination."
.
Comments
comments