From Andy Warhol to Jack Kirby to the nameless guy or gal doing concept art for the next big budget blockbuster, pop culture resonates with people in a special way. Comic books, video games, and well-articulated toys have bound people together in a way that museum pieces just can't.
This may have artist J Woo Kyle's sentiment when he put together Nerdfest Pop Art Show in Flint.
Held on Saturday, March 25 at Black Eye Social Club, a tattoo parlor located at 1388 W. Bristol Rds. he owns, it will be a combination art show and mini comic convention. The event is hosted by the Black Eye Social Club and FLINT Underground/F.U., a local group of artists, musicians, performers, poets, curators, organizers, writers based out of Flint. There is no charge to enter.
Now in its second year, Nerdfest combines two worlds – art show and comic book show lovers.
"The people who come to the show talk about it," says Kyle, also known as J Blackeye Woo. "It's a real good time, a real drop-in event."
There will be 25-30 pieces of original art by local artists for sale, each inspired by the individual artist's personal pop culture passions.
Here's some of sample of the artwork.
Kyle, for instance, uses his skills for oil paint and acrylics to capture the works of Todd McFarlane's Spawn comic and the video game series Legend of Zelda and its lead character Link. You can check out his work at the show.
The Spawn painting is inspired by the splash page (full page panel) of Spawn facing his arch-nemesis the Violator in Spawn #2 (Violator's first appearance).
This homage to McFarlane's work comes from a true place of love.
Kyle is more than willing to go on, as only a true fan can, about McFarlane's work, not only on Spawn, but his earlier work on Marvel's Spider-Man a few years before. Both characters influenced him as a child.
Other artists sharing their nerd passions include:
Pauly M. Everett (a well-known pop art artist in Flint)
Meg Shire
Jacob Skelton
Jennie Booth
There will be a wide variety of styles, mediums and influence in the art on display and for sale, but the most common will be mixed media.
For those of you seeking out the odd comic, collectable toy, video game or what have you to finish your collection, you need not worry. There will be a small, but well-planned group of vendors at the show, including:
Cosmic Collectables
Uncommon Threads
Sweet Lou's, located in Millington near Lapeer, was discovered by Kyle when he looked for a piece for his collection. After he did business with them, Kyle considered them a "hidden jewel," and wanted raise their profile.
Aside from Sweet Lou's, toy collectors may enjoy a display of Transformers G-1 Masters.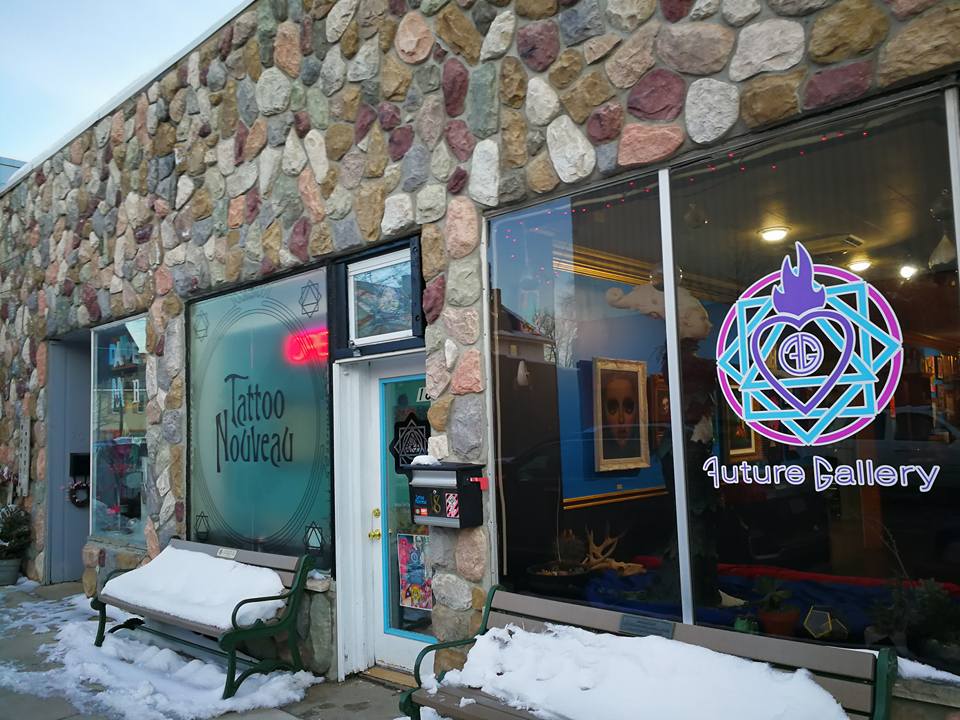 You can see it all at the Black Eye Social Club, which may seem like an odd place to hold such an event. In reality, it's the perfect place.
Anyone who has met a tattoo artist can attest they don't kid around when it comes to the artist part. They are skilled artists who want to show off theirs and other people's work. Not only are many of the tattoos that come out of Black Eye Social Club based on popular culture, the aesthetics lends itself to the theme.
Kyle describes the club as a "'90s video game lounge."
The loyal consumers and fans who enter will find a small, but welcoming and passionate community awaits them – at this show and beyond.
"It is sort of like the people's place to support that," he says. "Like it's theirs."
Anyone who frequents comic shows or art shows can tell you this is unique to either world.
Comments
comments