Carma Lewis knows a thing or two about meetings. She has weekly meetings and monthly meetings. Sometimes she even finds herself at meetings about meetings.
Whether the convener or a participant, Lewis, president of Flint Neighborhoods United (FNU), sees her role in the various sessions she attends as one of collecting news to share with the larger community. From church gatherings to city hall, she uses her seat at the discussion table as a service post to empower and encourage other residents.
In June FNU celebrated five years of organizing and mobilizing to help address Flint residents' concerns.
Even before the water emergency that has impacted many of Lewis' conversations she says the community suffered from a lack of citizen involvement.
"What I do through Flint Neighborhoods United is share information to make sure people are aware of the resources we have in the city," says Lewis.
A coalition of block club, neighborhood association and crime watch captains and their designated leaders, FNU meets at 9 a.m. the first Saturday of each month at Woodside Church, 1509 East Court Street. Guests include city government officials, law enforcement, and educators. Topics span a broad range from bus service updates and safety efforts to news about fundraisers, neighborhood programs or events.
"The group's focus is from a citywide perspective versus the focus of the individual members of a specific neighborhood or area within the city." -Carma Lewis, President, Flint Neighborhoods United
"What I do, as president of this organization," Lewis adds, "is reach out to different community groups in the city, so they can share and have other neighborhood groups do the same thing."
May's meeting hosted the Mott Park Blight Squad, which cleans abandoned property and secures houses, painting them and planting greenery outside, so vacant structures don't remain eyesores.
Unlike a traditional block club, FNU functions as more of a community federation with a broader reach. The organization publishes Flint: Our Voice, Our Community, a monthly newspaper with a circulation of 4,000.
"The group's focus is from a citywide perspective versus the focus of the individual members of a specific neighborhood or area within the city," Lewis says.
FNU meetings average about 50 participants and are promoted through social media. The organization has grown in influence since 2012 when it was launched by Flint Police Sgt. Tanya Meeks, who has remained involved.
Lewis briefly left Flint to care for a parent in Arkansas, returning in 2013. While she was away, she says she remained concerned about her hometown's challenges.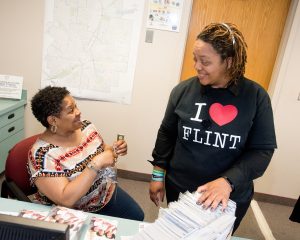 "My philosophy is that we're all in this together," says Lewis. "Even though a lot of this work was previously done by city hall, they don't have the staff they once had."
"When I returned to Flint and saw what had happened with the loss of residents and the loss of police officers, I became a volunteer and I got hooked," Lewis recalls.
She was also hired by United Way and coordinates the Flint Cares meeting and communication series, held bi-weekly.  The program promotes multilingual community outreach and efforts to keep all segments and cultures informed about water- and health-related matters.
Meanwhile, on alternating Thursdays at 3 p.m. in The Dome behind city hall at 1101 South Saginaw, Lewis attends FACT (Flint Action Coordination Team), updates and discussions designed to keep residents informed about the progress local, state and federal officials report about improvements in the water's quality. She encourages more citizens to participate in the meetings, which are open to the public.
"This affects all of us," she says. "We have to be a part of it. Flint is us. This is our city."
While the hats she wears in various professional and volunteer roles put demands on her schedule, Lewis says she's committed to collaboration.
"There are times when the lines seem to blur. I try to work with everyone, the local, state, federal governments, the non-profit organizations and the local residents," she says.
Her networking has paid dividends, like when she shared that Habitat for Humanity offered shower filters to residents, many of whom reported skin irritation in the aftermath of the water emergency. Relatively little promotion of shower filters had been made public, compared with the tap water filters now in many homes.
Not only does she strive to share information, but to ensure accuracy.
"I try," Lewis says. "That's where the relationships come in."
Apart from the task of reaching as many Flint residents as possible, whether through FNU, Flint Cares, or FACT, Lewis jokes that her biggest challenge is "sleep."
Volunteer support and public participation are always in demand.
"Our city needs all the help we can get," she says.
ABOUT FLINT NEIGHBORHOODS UNITED
Flint Neighborhoods United is a coalition of block club, neighborhood association and crime watch captains and presidents (or their designated representative) who come together on the first Saturday of each month to share information and leverage their resources to create positive change in the Greater Flint community. The group's focus is from a city-wide perspective versus the focus of the individual members of a specific neighborhood or area within the city.
The next meeting is scheduled Saturday, August 5 from 9 a.m. – 11 a.m. at Woodside Church
Woodside Church
1509 E Court St
Flint, MI 48503
The group has three goals. They are:
Improve communication among and between stakeholders at all levels.
Create and maintain an environment that supports safe and healthy neighborhoods
Re-establish a city-wide sense of community with a shared responsibility.
For more information about Flint Neighborhoods United and its  visit www.flintneighborhoodsunited.org.
Comments
comments