The stars twinkled Thursday evening at the but these weren't the same old leading men and women in Hollywood.
No, the local movie-makers celebrated July 27 were participants in the second annual Flint Youth Film Festival Awards Ceremony, featuring aspiring artists from ages 13 to 25.  The program recognizes short-film directors, honoring their work in categories including  best film, Audience Choice Award, best documentary, and best drama.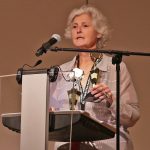 Coordinated by Donna Ulrich and Rodney W. Brown, the 2017 event featured about 20 films.
"This is a really wonderful arts town, but especially in the Flint area, we don't get a lot of opportunities for young filmmakers to showcase their work," Ulrich says. "So that's what the Flint Youth Film Festival is about, reaching kids from middle school to college and allowing them to show off the work they're doing."
Among winners at this year's ceremony, Jermaine Davis was a standout, earning three honors that included the Gumption Award, recognizing the most dedicated director.
"I'm happy for this event for filmmakers," Davis says. "Congratulations to all of the people who won an award tonight and who were nominated. This is a great night for filmmakers and storytellers, and for them to be awarded tonight, it was a wonderful thing to have, especially in the city of Flint, Michigan."
ABOUT THE FESTIVAL
The Flint Youth Film Festival was created to introduce the art of filmmaking to people, ages 13-25 and college students regardless of age. It provides you with venues for developing their storytelling talents and provides opportunities to share their creative work with peers, the public, and professional filmmakers and screenwriters. To learn more visit: flintyouthfilmfestival.com
The event is supported by: UofM Flint, Michigan Council for the Arts and Cultural Affairs, Flint Institute of Arts, Ruth Mott Foundation, iMichigan Productions, Mott College, Flint & Genesee Literacy Network, Imagine Theaters and Best Buy
Comments
comments