Selfies and summer's favorite treat – the combination sounds like fun all by itself.
Throw in a year's supply of ice cream as the prize and it's easy to see why the United Dairy Industry of Michigan's new contest is generating a buzz.
Just by posting an original photo of an "ice cream moment" involving yourself, friends or family members enjoying ice cream via Twitter or Instagram, you can win.
The contest begins July 1 and is open to Michigan residents.
Use the hashtag #MilkMeansMoreContest with your photo submission.
FLAVOR TO SAVOR
Vanilla's America's favorite flavor, according to icecream.com. Eighty-seven percent of households have the cold, sweet, creamy stuff in their freezers right now, and that doesn't include the lines at the local sundae shop or parlor. It takes about 50 licks to finish a regular cone, which the average American accumulates to the tune of about 23 pounds of ice cream each year, making the United States second worldwide, only to New Zealand.
Winners of #MilkMeansMoreContest will be chosen randomly. Apart from the grand prize of $1,000 gift certificate to the Michigan grocery store of the winner's choice (and where ice cream will be the purchase of choice), two winners will receive four single-day admission tickets to Cedar Point valid for the 2017 park season.
Editor's Note: To learn more about the United Dairy Industry of Michigan visit: milkmeansmore.org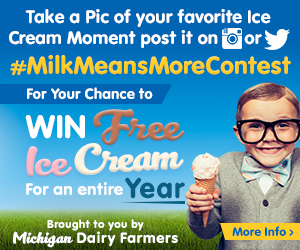 Lead photo by All Kind of People / Shutterstock, Inc.
Other original photo by #MilkMeansMoreContest entrant, courtesy of United Dairy Industry of Michigan
Comments
comments