From the outside, Paul's Pipe Shop & Pipe Hospital in Flint looks like an ordinary smoke shop. But inside it's a pipe wonderland with close to a million handcrafted and machine-cut pipes and a pipe museum, believed to be unrivaled in Michigan or anywhere in the nation.
The late Paul T. Spaniola originally founded the pipe shop in Mount Morris back in 1928 when he was 15, ignited by a $10 bet that he couldn't get people to buy pipes. Spaniola took the pipe salesman's challenge to heart.
He moved the store to Flint, and ran it until he was in his late nineties. Then his son, Dan Spaniola, took over the operation.
"I grew up in this," Spaniola says. "It's a part of me, and I have to keep it going, but it's slowed down some."
Some of the slowdown may likely be because fewer people are smoking after health warnings were issued by the U.S. Surgeon General. Those warnings have gotten more and more stringent in recent years.
Still, the store, which has been at its Saginaw Street location for 40 years, is a home away from home for some Flint residents who come in daily to chat.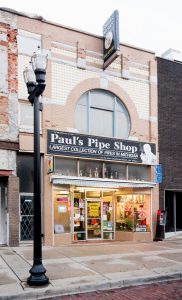 The museum upstairs attracts national and international visitors who come to see about 2,000 pipes, smoking paraphernalia, antique cigarette boxes, vintage tobacco cans, old cigarette advertisement posters and other items. It's a place where one can learn bits of pipe-smoking trivia, such as the world record for continuously smoking is two hours, six minutes and 30 seconds.
The museum is also home to each pipe smoked during the World Pipe Smoking competition held annually in October, including pipes Paul Spaniola smoked to become the undefeated six-time world champion. A private collection of pipes that belonged to the late Charles Stewart Mott, a two-time Flint mayor, businessman, philanthropist, is among the exhibits.
Mott was the founder of the Charles Stewart Mott Foundation, which has been a major supporter of Flint and has helped fund many programs that solve problems, create opportunities and build a vibrant future for the community and its residents.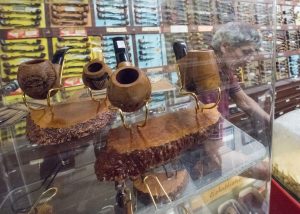 The museum's "wall of fame" is an array of certificates, awards and photos of Paul Spaniola with celebrities, including with the late actress Susan Hayward when he was summoned to Hollywood to teach her how to smoke a pipe for the 1953 film "The President's Lady." There are also proclamations from notables such as Pope John II and former Gov. Jennifer Granholm.
While managing the store and the museum, Spaniola also manufactures pipes. The process begins with taking a chunk of briar out of the ground. It's then cut into a block and shaped into a pipe.
Spaniola believes cutting into a briar root is like a box of chocolates. He never knows what's he's going to get. Occasionally, instead of solid hardwood, the inside may be a cavity or be filled with sand or rocks. Those pieces are tossed out, along with the money they cost. The ones that pass standards are crafted into pipes, fitted with a stem, sanded, finished and stained a variety of colors.
Spaniola fills orders from as far away as South Korea, and he has hundreds of index cards detailing the blends individuals prefer.
While the museum is loaded with history, and there is a market for his pipes and blends, it's still a challenge to keep the business going.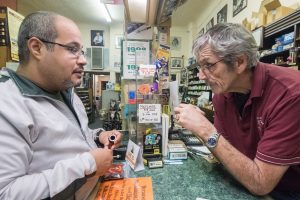 "It's an instinct to do this," says the 70-year-old Spaniola, who started working in the family business when he was 12. "My father started this when he was 15 and he worked it until he was damn near 100. I just want to keep his legacy going. It's been tough sometimes, and I'm short money sometimes and have to steal out of my savings to keep it going. It's worth it because I don't want to let his legacy fade into the sunset."
Photos by Paul Engstrom
Comments
comments