There's more to farm life than meets the eye. What appear, to some, as long days that amble along at a leisurely pace are often bustling, up-at-sunrise routines that help create nutritional products that get shipped to local supermarkets and, ultimately, land on breakfast and dinner tables around America.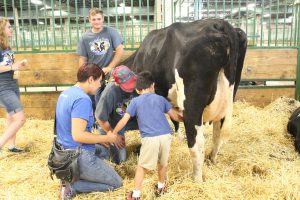 Children who live in urban communities are among the least knowledgeable of just how important rural farmers are, especially farmers in Michigan, according to research. Sponsored by United Dairy Industry of Michigan, the "Great Dairy Adventure!" provides an opportunity for families, summer camps, daycare programs and anyone else interested in learning about the origins of many local dairy products to a fun-filled field trip on July 19.
In addition to free entry, organized groups with school-aged youth from the Flint community are being encouraged to apply for free bus transportation and complimentary meal service provided by UDIM and its supporters.
Each and every willing participant will get a chance to milk a cow, try out dairy recipes, and learn how milk travels from a farm to a grocery store.
Without exposure and education about dairy farming, many children have often thought milk originates in bottles, studies show. The benefits of witnessing an actual farm operation – like one of Michigan's 1,800 locations – are wide-ranging, such as:
exposing non-rural citizens to agriculture
educating youth about diverse gender and age groups in the farming industry
providing firsthand, versus textbook, information about animals and how they're raised
greater appreciation and understanding of the need for healthy food products
Participants in the "Great Dairy Adventure!" will get to milk a cow, try out dairy recipes, and learn how milk travels from a farm to a grocery store – which takes as little as 48 hours when produced in Michigan. Michigan State University student athletes will be on-hand to interact with children and sign autographs. Youth will participate in educational skills competitions, while hundreds of cows are exhibited in breed shows. Families are encouraged to pack picnic baskets and enjoy free parking and admission, where the lawn around the MSU Pavilion will be available.
Teachers who bring groups or hope to learn more about how children can increase dairy in their daily diets will receive educational materials and packets that provide ideas for classroom tips.
To get more information, call Carla McLachlan at (517) 432-5402, or to register visit the United Dairy Industry of Michigan (UDIM) website.
July 19; 9:30 a.m. – 2:30 p.m.                                                     MSU Pavilion for Agriculture and Livestock
4301 Farm Lane
East Lansing,MI48823United States
Lead photo: Shutterstock, Inc. All other photos courtesy of UDIM
Comments
comments