There is nothing more illuminating to a city than making sure the police and the community are working together to make it better.  That is why Flint's "Light Up the City and Art Parade" has become an annual tradition.
During the monthly summer event, local police officers go into Flint neighborhoods and spend time talking with people to build stronger bonds with the community. They distribute information, and the citizens leave their porch lights on in a show of solidarity.
That's just one way Flint lights up its neighborhoods.
Each summer the Flint Public Art Project partners with local companies and organizations to transform underappreciated sites in neighborhoods. Two years ago its Neighborhood Art Parade teamed up with the Michigan State Police's Light Up the City initiative to improve public safety, beautify civic spaces, and build community.
"We're all in this together," says President of Flint Neighborhood Engagement Hub Carma Lewis.
The Art Parade marches through the neighborhood making sure to pass by places that have been helped and celebrates their success. Improvements made to the areas become a festival.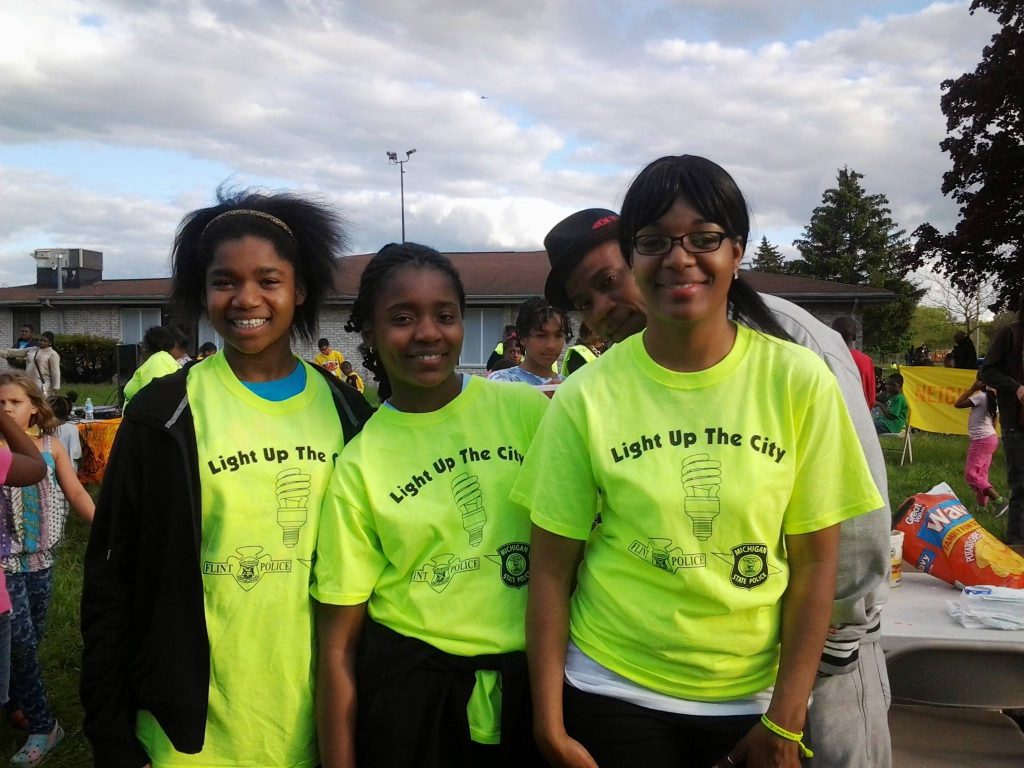 The parade has barbecue, drinks, and live music for everyone to enjoy. The police officers are also part of the fun. They bring motorcycles and cars for the kids to see and sit on or in.
Many local artists also get involved.  They hand out community newsletters and information on ways to improve the neighborhoods through beatification and prevent crime.
The artists join the police in talking to communities about what they want done, and try to make it happen.  One example this year is a request from residents to board up or fix up abandoned houses.
Local businesses get in on the celebration as well with Wal-Mart providing food, volunteers and supplies for the monthly parties.
A partnership with Consumers Energy provides energy-efficient light bulbs to the community to help neighbors light up their neighborhood. Partnerships with Elga Credit Union, Cumulus Media, Flint Neighborhoods United and many others help provide music, activities for the kids and much more.
All the fun and fanfare brings the police and Flint neighborhood residents closer and establishes deeper ties. The goal is to create a partnership and a trust between the officers and neighborhood so more residents report crimes.
Events were held earlier this year at Brownell Holmes STEM, 6302 Oxley Drive, and in Kennedy Park, Mary Street and Saginaw Street.
The locations still coming are:
July 27, 5-8 p.m., The Elated Flute Foundation Art Center, 742 Neubert Street
Sep. 28, 5-8 p.m., Hispanic Technology & Community Center, 2101 Lewis Street
A city is only as strong as the relationships between its people and its institutions. Strengthening those bonds with open conversation, free labor, a parade, and, of course, free food is certainly a step in the right direction.
This monthly event runs from April through September across numerous neighborhoods in Flint.
To learn more visit Light Up the City Flint facebook page.
Lead photo courtesy Flint Public Art Project
Comments
comments