She's young, gifted and ambitious.
She's also torn.
Jia Ireland, a recent University of Michigan-Flint graduate and Flint native, says she wants to stay and build a professional life in the city that nurtured her.  But when she looks around the community, she doesn't see a surplus of opportunity.
Like Ireland, 24, countless others in Flint's millennial generation face the looming decision of whether to seek employment outside their hometown's borders, or stay and gamble on an uncertain economy and still-rebounding job market. As she and many of her peers ponder the wisdom of their choices, they also weigh related issues, like gentrification and changes in local industry.
"We were told stories about people getting fired from one plant and just walking down the street to another plant," Ireland says. "We don't have those opportunities."
"For our  generation, the question is, 'What jobs are you going  to give?' Who are you hiring? It's not young people.  It's not black people."
Apart from the challenge of ongoing reinvention from  Flint's past as a manufacturing city, capable of accommodating a large workforce, Ireland says economic exclusion is a problem, particularly downtown.
"A lot of the downtown businesses are flourishing," she adds. "Where are the black and Latino owners?" To the corporate community, she adds, "For our  generation, the question is, 'What jobs are you going  to give?' Who are you hiring? It's not young people.  It's not black people."
A new class of college graduates and entrepreneurs says Flint must increase opportunities for them to succeed, or they will be forced to explore life outside the city.
George Wilkinson, group vice president for the Flint  & Genesee Chamber of Commerce, hears similar  concerns voiced by Ireland's generation and other  recent local graduates.
"As they graduate from college, they want to make sure that their community has an economy that can support them and their families," Wilkinson says.
While he understands their apprehensions about staying rooted, Wilkinson says there's reason to be hopeful.
Statistics collected by the Flint & Genesee Chamber of Commerce reveal:
•   Since 2011, 7,463 private sector jobs have been  created in the area.
•   Since 2015, unemployment in the city and county  has decreased about 14.7 percent.
•   Overall property values increased between 2015  and 2016.
"I think there are some key components that the  Chamber is really focused on, and one of them  that allows us to retain the talent that is in this area  is an economy that is strong and moving forward,"  says Wilkinson.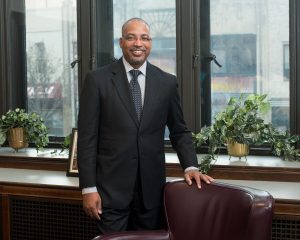 Efforts like the Chamber's young Professionals organization serve to help train and better prepare Flint residents for local growth opportunities, linking them to CEOs and company presidents from throughout the region, Wilkinson says. Participants in young Professionals attend the "Leadership Now" series, a course that exposes them to perspectives of guest speakers and resources for success.
Although much more effort is needed from Flint's corporate and civic entities and stakeholders, Wilkinson says the "indicators are moving in the right direction."
"One of the key components for high school graduates  is that the education opportunities are just outstanding,"  he says. There are about 30,000 higher education students in  Flint, 700 of whom are international, Wilkinson adds,  noting the appeal of the local college and university system. Programs for professional development  include the Skilled Trades Training Fund at Mott Community College.
Though he's quick to acknowledge room for improvement, Wilkinson also says he knows of  assertive" millennial employee recruitment by some  Flint-based corporations.
But Ireland says a more concerted effort that includes  the philanthropic sector is needed, to ensure Flint's  younger citizens and those of color bloom where  they've been planted. A community activist, she has  a record of demonstrating on behalf of poor and  disenfranchised residents.
"We need to make sure that everyone's at the table, and go to the people" with opportunities, Ireland says. "From my perspective, Flint, Genesee County, the whole state of Michigan, we're having a brain drain."
With limited career options, she and other postgraduates find themselves increasingly at a  disadvantage that can burden them for years to come, she says: "you're graduating with $40,000 of debt. you need to be making more than $8.90 an hour."
Improving other quality of life standards is a concern  both Ireland and Wilkinson share.
From housing to shopping and entertainment, Flint's young, homegrown talent has needs beyond salaries.
Promoting safety and excellence in lower education will add to the appeal of Flint neighborhoods, Wilkinson says, particularly for those who want to start families.
An emerging local restaurant scene, too, shows promise for culture and commerce, Chamber data suggests.
"All of this is fledgling," says Wilkinson. "It's coming,  it's here, it's moving forward, and there's a lot more  to come right here in Flint, and as we expand into  the communities."
Hope for level playing fields is part of what fuels  the faithful, Ireland says.
"A lot of people in Flint are very prideful," she adds.  "This is our city and, wherever we go, we're 'Flintstones.' We're born and raised here.
"We have a lot of talent – musicians and poets, and  rappers, and people who have culinary skills. There's  an immense amount of talent. But you have to have  the resources. It takes money to make money.  Where do you get the money?"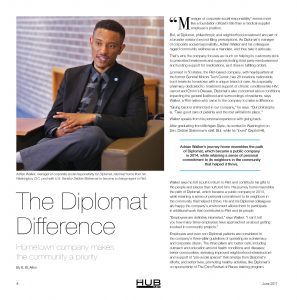 See related articles published in TheHUB regarding talent recruitment and retention efforts and investment initiatives:
Flint expats encouraged to come home
Flint is more than Michael Moore
Comments
comments