The heart of Flint beats with the rat-a-tat-tat of a snare drum.  For the past six years the city's Nightfire Drumline has been a regular presence around the city.
The next place to see them will be Sept. 28 at the Neighborhood Art Parade + Light Up the City. It runs from 5-8 p.m. at the Hispanic Technology & Community Center, 2101 Lewis St.
Nightfire Drumline began when Michael Wilson returned from Tennessee State University and started to talk to his old high school friend, Clarence Ruffin, about an old dream of theirs – to start a drumline.
Often times, the Nightfire Drumline team performs in rough or unmaintained neighborhoods to create a celebratory atmosphere while residents make repairs or clean up
Nightfire was born in 2011 with Ruffin handling the business side as president, and Wilson tackling the musical end as field commander. Wilson's role includes organizing music, preparing MP3s as practice aids, and other necessities for the music to be available and played.
Those roles fell into place naturally. Most of the original members were friends or close family members who played together high school.  However, it was not all a simple march to success. In the early days they had trouble finding places to rehearse.
"We actually practiced in his (Ruffin's) living room," Wilson recalls.
They started out practicing on pads and finally got to perform using borrowed drums for whoever would watch.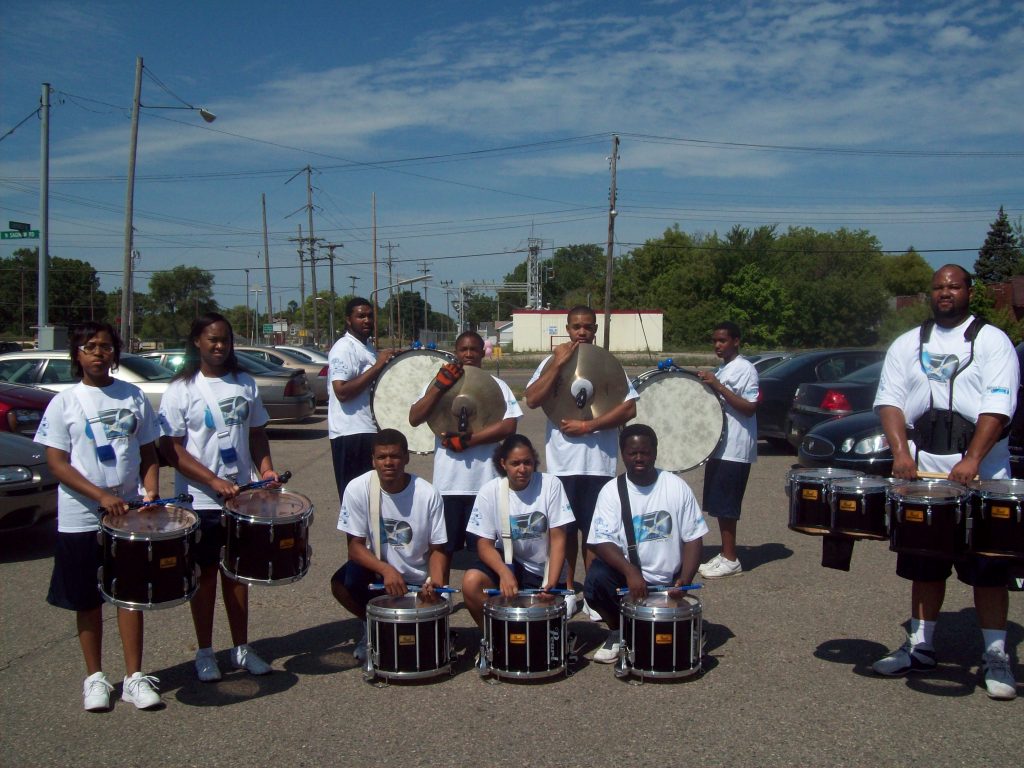 A year into their existence, Nightfire was contacted through its Facebook page to perform for a city parade. From that point on, they became regulars around Flint performing often at the Light Up the Night events.
Often times, they perform in rough or unmaintained neighborhoods to create a celebratory atmosphere while residents make repairs or clean up. While the clean-up portions often occur during the day in the day, Nightfire usually shows up to perform in the evening after the members get off work. However, when they can be there during the day, it is not uncommon to see them joining in the clean up.
Nightfire plays about two shows a month, with most of them in Flint. It has played across the state – in Saginaw, Holland (multiple times), Pontiac and at Michigan State University, but their favorite place to play is still back home in Flint. The city has returned that love with audiences frequently coming to talk to them and say how much they enjoyed their performances.
"People are always excited to see us," Wilson says.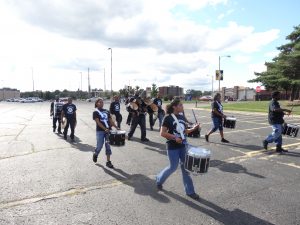 The group plays most often at local high schools such as Northwestern and Southwestern. That's fitting, since that is where it all began for Wilson, not just playing with Ruffin and the other original members, but where he first saw a drumline.
When he was growing up, Wilson lived down the road from his high school, Flint Northern, which, he says, was then the school with the best drumline in the state. He would go and watch them and eventually joined them.
From his time in the drumline, Wilson learned skills like reading music and increased his dedication and focus. He and the other members of Nightfire have not forgotten those skills and want to pass them on to a new generation. They opened up membership in the group to high school students with musical experience who could prove their ability. They teach them music reading, attention to detail, technique, and encourage younger members to take what they have learned back to improve their respective programs.
Part of the need comes from shrinking budgets for the arts in schools. Wilson saw potential talent wasted and a way for kids to stay out of trouble gone.
"They don't really support music as they should," he says, "… we saw how things were going, and we wanted to fix it."
In collaboration with the Flint Public Arts Project, Light Up the City and The Chosen Few Arts Council, some Nightfire members teach classes in schools and other locations to show young people who may not have the opportunity to play in a school band that they, too, can do it, with hopes of them pursuing an interest in music.
Wilson currently teaches a class of five. His youngest student is five years old and the oldest is 13.
"It's great to see the craft of playing an instrument," he says, "It's our duty to encourage that."
Despite its deep roots in Flint, Nightfire has found itself in a rebuilding year.
"We hope we can recruit and get some more people to play," says Wilson. "The most important thing is that we can keep playing."
The group has found success by growing it roots deeper into Flint's community. Wilson sums it all up simply … "It feels good."
Nightfire Drumline certainly makes sure Flint doesn't miss a beat.
Learn more about Flint Public Arts Project's Neighborhood Art Parade here.
Comments
comments