Though she was born thousands of miles away, Manal Saab's is an American story.
Having escaped Lebanon's civil war as a teen, she settled in Ohio with her family in the late 1970s. While her lineage and culture often includes independent, educated and career-oriented women, Saab had no way of knowing she would eventually help lead one of the most significant construction consulting firms in Flint's history. Four decades after she arrived in the United States she serves as CEO of Sorensen Gross Construction Services (SGCS).
Saab's vision includes increasing professional opportunities for women of diverse backgrounds in Flint and beyond.
"Sorensen Gross Co. has literally built most of Flint," says Saab.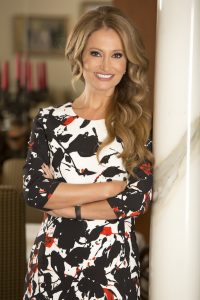 With a portfolio that includes constructing or expanding such major landmarks as Genesee County Courthouse, Genesys Regional Medical Center, Flint Institute of Arts, University of Michigan-Flint and other high-profile, high-traffic community institutions, few would accuse her of exaggerating.
As an outgrowth of the Sorensen Gross Co., founded about a century ago, SGCS has carved its own territory in the industry through Saab's direction. Established under the larger company in the late 1990s, Saab formally took the helm of SGCS in 2016. Clients include General Motors, for which the company has supervised assembly plant projects across North America.
Saab's professional journey began after she graduated summa cum laude from Cleveland State University with a Masters of Public Administration. She entered the health field and joined administrators in leading what became the nation's most successful public hospital, but decided to be a full-time mother after having her third child.
To help change the gender landscape, Saab hires women directly out of college.
Saab reentered the workforce with an eye toward taking advantage of the construction industry's absence of women-owned businesses and available government provisions. After 2008, her husband, who owned Sorensen Gross Co., faced challenges related to the nationwide economic plunge and sought his wife's support at the company, which held offices in Brighton and elsewhere, along with Flint."He asked me to help him out and I started working with him," she says, "trying to do some mergers and acquisitions."
The couple, who live in Fenton, began restructuring, and Saab turned her attention to management, staffing, and serving the auto industry. Soon, the company closed other locations and centralized operations in Flint.
"It took us a long time to pick back up, economically," Saab recalls.
SGCS evolved with a focus on industrial engineering and automotive projects and has completed projects across the continent and as far away as the Middle East. Services include pre-construction, site safety, quality control, consulting, and other professional provisions.
"I like to support women," says Saab. "There are a lot of them who are interested in this line of work, but unfortunately they don't have opportunities, due to lack of experience."
To help change the gender landscape, Saab hires women directly out of college. At the other end of the experience spectrum, she also hires women who don't speak English, who – like Saab once was – are new arrivals to the country.
In addition to her professional work, Saab was appointed by Gov. Rick Snyder to chair the Commission on Middle Eastern American Affairs for the State of Michigan. She is an emeritus board member of St. Jude Children's Research Hospital and holds memberships of other charitable and community boards, including trusteeship of the Community Foundation of Greater Flint. She and her husband Ghassan won the 2010 Russell G. Mawby Award for Philanthropy, the highest award recognizing philanthropy in Michigan.
In a national and political climate where immigration debates have intensified and polarized many citizens, Saab cites her life and work as testimony to the benefits of multicultural society.
"The perception is that immigrants come here to take jobs away from us when, in fact, the economic impact of immigrants is evident and huge," she says. "My husband and I are only one example of immigrants who come and create jobs."
Contrary to threatening the country, Saab says Sorensen Gross and other companies led by people of other cultures add to the "safety nets that deliver services to America and Americans."
She's also proud of her role as a business owner and creator of professional paths for other women.
"You take a chance on them when no one else will, and loyalty and good work ethic are the returns on your investment," Saab says.
Comments
comments