You can't run. You can't hide. One way or another, we are all going to age, and for more and more women that means new challenges as they grow older and prepare for retirement.
The "Age Wave," the massive population and cultural shift cause by aging Baby Boomers, will be the topic of this year's Flint Women and Girls Day at Kettering University on Thursday, October 12 at 8 a.m. It is sponsored by the Community Foundation of Greater Flint.
Speakers will discuss the challenges many women in Genesee County face, specifically retirement, poverty, health and housing.
"Flint Women and Girls Day is an opportunity for all of us to reflect on the tremendous impact women make every day and a reminder of our responsibility to grow strong, self-assured girls for the future of our community," says Sandra Murphy, director of donor services of Community Foundation of Greater Flint.
Many of those young women face challenges that must be addressed to help them meet their full potential now and in the future.
Much of the problem comes down to finances.  Part of the seminar will talk about how to manage money to prepare for retirement, which is a challenge for many.
In Flint 350 Flint seniors are raising grandchildren, 270 of whom are women.
Finance knowledge is especially important to senior women since their average wage is $22,000 a year in Flint, compared to $32,000 for men, according to census data crunched by Thomas B. Jankowski, PhD, an associate director of research at the Institute of Gerontology and the Merrill Palmer Skillman Institute of Child and Family Development at Wayne State University. He is also a speaker at the event. He will focus on the demographics of maturing women across Genesee County based on his assessments across Michigan.
Learning how to best manage finances is all the more vital since women are 2.5 times more likely to be widowed.
Unlike those who grew up in the World War II Generation in the 1940s or the Baby Boom generation, those who are now in the 30s and 40s will likely not have pensions or, if they do, they will be substantially less than previous generations.That will make it difficult for many to deal with issues such as the rising cost of health care.
In addition, many young women are underemployed or work in low-paying jobs, a number much higher than previous generations, which makes it difficult to save for retirement.
A rising number of those in Generation X and Generation Y don't believe there will be any social security to fall back on when they retire. They are also wonder about the future of Medicare, whether it will be around and, if it is, what it will cover when they retire.
Childcare is another issue facing many older women as they become caregivers for their grandchildren, often when their children are at work. It can cause financial and personal strain. In Flint 350 Flint seniors are raising grandchildren, 270 of whom are women. One third of women in Flint live in multi-generational households compared to one-fifth of men. These numbers are also from Jankowski's
Speakers at the Flint Women's and Girl's Day will discuss how women can prepare for the future. Besides Jankowskiother speakers are:
Sonya LaGorge – A financial expert who will speak about the importance of long-term investment. She is chief operating officer of Flint's Oliver, LaGore, VanValin Investment Group and a trustee of Community Foundation of Greater Flint.
Paula D. Cunningham – The current state director of AARP Michigan and former CEO of Capital National Bank and president of Lansing Community College, she will discussaging services for women.
The Community Foundation of Greater Flint received a $1,000 grant from the Stella & Frederick Loeb Charitable Trust, administered by Huntington Bank, to support Flint Women & Girls Day 2017.
Many of these problems may affect countless people, but are rarely talked about outside of senior centers, and that is very often too late to help.  The goal of Women and Girls Day is to focus on challenges early so changes can be made soon enough to make a difference today, tomorrow and in the future.
There will be valet parking as well as shuttling from Bluff Street where the Mass Transportation Authority will provide shuttle service to the Campus Center.
For more information on the primary areas affecting women and girls in Genesee County – economic security, health and well-being, and education – please check out the research report "The Status of Women and Girls in Genesee County "from the Flint Women and Girls Fund.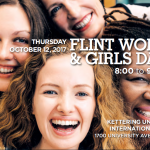 October 12; 8 a.m.
Flint Women and Girls Day
Kettering University /  1700 University Ave  / Flint, MI 48504
Cost: $20
Comments
comments