The road ahead didn't appear to lead to a dream.
In fact, Jordan Paul didn't even know where his life was immediately headed. Kicked out of the house at age 18, before finishing his senior year of school in Indiana, he found himself homeless.
Raised in a strict Jehovah's Witness family, he'd become restless in the sheltered environment and wanted to experience things his father wouldn't abide.
"It was his way or the highway," says Paul, 22. "And I chose the highway."
With relatives in Flint, Paul came to Michigan. But, unemployed and facing other conflicts, he later found himself homeless again. Instead of losing sight of his career dreams, he used them to motivate him until they began taking shape this summer. While working to gain his personal footing, Paul launched Eye 2 Eye Management, a talent representation and branding firm.
"Jordan loves Flint. He never gets it twisted. He loves what it is and what it's going to be." – Deaire Dixon, Recording Artist
"I have a lot of interests," he says. "I enjoy photography, I enjoy modeling.  I enjoy videography. A lot of people call me a jack of all trades, but I just want to use communication and my personality to benefit the people around me."
Eye 2 Eye has a roster of five acts, including performers Deaire Dixon, Lance "Pookiepi" Huddleston II, and Phillip Walker and Benjamin Aurand of the duo PHZD (pronounced "phased"). Alex "DJ KD" Kadie and spoken word artist JaCquell Price, known as "Prodigy the Poet," are also represented by Paul.
He began booking shows at local venues like Café Rhema and Urban Café a few months ago. But the budding entrepreneur's still-unfolding vision came with a lot of self-discovery. While living with his sister, Paul realized his religious upbringing had diminished him as an individual.
"I didn't know who I was or what I was doing," he says. "I'd lost my identity."
"I bought the program and it was everything I needed and more," Paul says.
His independent business training course was only beginning.
"I started reading for myself. I started teaching myself. I would go to Barnes & Noble. I would read books and I would try to meet one person everyday," he says.
Philosophy and a range of other subjects supplemented Paul's curriculum.
"I was trying to drink in everything," he adds, "because, for the longest time, the only book I read was the Bible."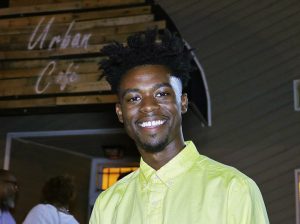 The next move led to developing Jaywithbenefits, Paul's personal brand. He began filling his social media account with encouraging tips and advice for his online network, recording "vlogs" (video blogs) and looking for opportunities to help other small businesses raise their level of exposure. His first client was an apparel shop at Genesee Valley Mall. He quickly took over the store's Instagram account and expanded its online content, after selling the store's owner with his enthusiasm and agreeing to represent her at no cost.
"The moment I stopped worrying about my paycheck, that's when the passion took over," he says.
Soon Paul became known among his peers for his business sense and he began collaborating with other young entrepreneurs. His work in artist management and entertainment is just the latest expansion of a company he says is still evolving. But with the success of 1980s and 1990s Flint recording acts like Ready For the World and MC Breed unknown or only vaguely familiar to many of his peers, what makes Paul think Flint has the clientele to help him succeed?
"The funny thing is I never even thought about that when I started doing this," Paul says. "I didn't even think about the fact that we were in Flint. I saw people with talent who needed to be celebrated and appreciated. They weren't getting the dignity that their art deserved."
Dixon, a graphics designer who'd strayed from his musical path before Paul took him on as a client, calls Paul his "brother."
"He's a go-getter kind of guy. He's willing to take risks other people aren't," says Dixon.
"One thing about Jordan that is very key is he loves Flint," Dixon adds. "He never gets it twisted. He loves what it is and what it's going to be. He's focused on his future, the future of the people around him, and Flint's future. That's why I feel comfortable with him, knowing he has my best interest at heart."
Paul, in return, says he feels obligated to help the artists he represents succeed because they've put their trust in him.
"That means so much to me," he says. "That is oxygen that I breathe on.
"I believe appreciating and celebrating other people, literally, is one of the greatest ways to succeed."
Comments
comments