Flint preschoolers paint water colors while listening to music, create stained glass from tissue paper, create ceramic animals from molded clay and are encouraged to draw whatever they want to express themselves to the world around them.
Once they've created their own artwork they visit the Flint Institute of Arts to see how professional artists express themselves.
Many children grow up coloring, drawing and finger painting, but Monique Desormeau, curator of education at the museum, believes concentrating on this type of art to stimulate the five senses is one way to pay more attention to Flint's youngest residents who were exposed to lead.
So she and her colleagues at Flint Institute of Arts (FIA) decided to expand the START (Success Through ART) program, an in-depth, creative arts curriculum, to about 90 classrooms in Flint schools, to help with any deficits they may face while preparing for school.
"The way young children learn is by experience, so when they look at artwork they figure out the stories the artists are telling us. They start to speak and tell those stories, and they develop a vocabulary and the ability to communicate with words," says Desormeau, whose program recently was awarded a $100,000 grant from the PNC Foundation.
"They predict what might happen next, so they are trying to figure out things and they are learning sequencing. They build math skills by counting how many triangles they see in a work of art. All of these experiences are helping them so, when they get to kindergarten, it makes sense to them. 'Oh, I know what that pattern is. I understand that.' All of this helps them get ready for school."
Long before the Flint water crisis, research studies have shown elevated blood lead levels can stunt growth in young children. As the city continues to grapple with the public health emergency, children younger than age 6 are of particular concern, because they are still developing and absorb four to five times as much lead as adults.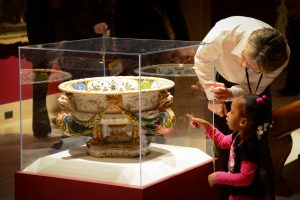 Even the lowest levels of lead in the blood can affect the brain and nervous system, potentially causing developmental delays, reduced IQ, poor reading and math skills, behavioral issues and a host of health challenges, including irritability and inability to concentrate. Medical experts say any level of lead exposure is unsafe for children.
But in Flint, the long-term neurological challenges can also be compounded by poverty conditions, poor nutrition and under-equipped schools educating children whose parents may not be well-suited to help them. So the museum also collaborates with the Flint and Genesee Literacy Network to provide 1,500 children with literacy kits that include a storybook, related art and literacy activities for families to enjoy together, along with art supplies for completing the activities. Together, the two initiatives serve about 3,000 Flint-area children.
The START program recently got another boost with a $3,000 PNC Grants for Great Hours donation to the (FIA). The Genesee Intermediate School District Head Start Early Childhood program received a donation of iPads, puppet kits and storybooks.
"The water crisis helped us understand how important early childhood lessons are for children," Desormeau says. "All children, whether they are affected by lead or have other issues in their environment, need support in becoming successful. This gives us a better way to ensure the success they need for the future."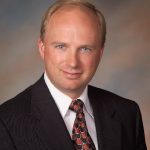 Tim Salisbury, regional president for the PNC Bank's Mid-Michigan Region, says the bank's foundation wanted to find a sustainable, long-term way to help Flint, particularly its most vulnerable, youngest residents.
"Like lots of folks, we want to do something to help with the Flint water crisis," says Salisbury. "We sat back and evaluated what that looked like and how we could make a difference. We didn't rush in with some bottles of water or money. We wanted something that could be more sustainable and have a lasting impact."
The FIA's $100,000 grant is part of PNC Foundation's Grow Up Great, a $350 million, multi-year, bilingual initiative that began in 2004 to help prepare children from birth to age 5 for success in school and life.
Focusing on underserved children, Grow Up Great provides leadership, advocacy and funding, volunteers and educational resources to help families, educators and community partners enhance children's learning and development.
Parents can help their own child's development, even if they have been exposed to lead through water, soil or dust in the home.
Experts have shared that a nutritious diet high in iron, calcium such as milk, and other dairy products like cheese and yogurt, and leafy, green vegetables such as spinach, collard greens and kale can help protect against lead absorption. Iron-rich, lean, red meats, beans, lentils, and dried fruit also help protect against lead absorption. The value of such foods is compounded when consumed with Vitamin C, which helps the body absorb iron, according to experts.
Encouraging children to eat fruits high in Vitamin C, such as melons and berries, and citrus fruits, like oranges, is also beneficial.
Dr. Mona Hanna-Attisha, a pediatrician at Hurley Medical Center and head of Flint's Pediatric Public Health Initiative, has also offered these tips:
• Read to your children.
• Sing to your children.
• Limit television watching.
• Do everything you can to support your child's development.
• Spend time with your children and be available for them.
Comments
comments